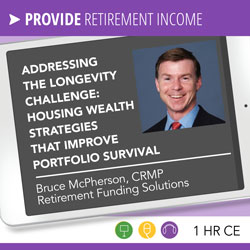 Home equity is most Americans' largest financial asset. Learn options for proactive implementation of reverse mortgage strategies for improving portfolio survival.
Home equity is the largest financial asset for all but the wealthiest Americans.
As demonstrated in the Journal of Financial Planning, the proactive implementation of a reverse mortgage strategy – early in the distribution phase – will improve portfolio survival and increase the odds of a successful retirement. As retirement counselors, we need to understand options for helping retired clients appropriately use their home equity if their economic situation requires it, including options for proactive implementation of reverse mortgage strategies for improving portfolio survival.
In this one-hour session you will learn:
Learn how the FHA's Home Equity Conversion Mortgage (HECM) program can work for retirees who have a substantial portion of their wealth tied up in their home equity.
Learn how an HECM Credit Line can be used to protect against sequence-of-returns risk during market declines to help eliminate the need for portfolio distributions during market troughs, improving the longevity of retirement savings.
See the modeling of different case studies using an HECM Credit Line and how it can be used to help improve the total net worth that can remain for heirs while meeting the retirement income needs of a retiree.
Explore a "Purchase HECM," which is a loan that helps clients purchase their ideal home for retirement without the burden of debt service.
The Retirement Resource Center YouTube channel features short clips of presentations by many of our speakers. Please visit Retirement Resource Center YouTube channel to view a short clip of this presentation.
Overall Rating: 4.2 / 5
Retail: $29.00
Add to Cart
This on-demand webinar is a recording of a recent live webinar. Check our WEEKLY REBROADCAST SCHEDULE where there is no need to take the online quiz to receive CE. You may also take this on-demand course any time for 1 hr CFP®, CRC®, and other Continuing Education Credit when you pass the online quiz.
Your presenter is Bruce McPherson, CRMP Certified Reverse Mortgage Professional with Retirement Funding Solutions.
Bruce has specialized in the FHA Home Equity Conversion Mortgage (HECM) since 2003, which is the safe, flexible, federally-insured version of a reverse mortgage.
Moderator: Betty Meredith, CFA, CFP®, CRC®, Int'l Retirement Resource Center
Invest in Your Retirement Expertise
1 hr CFP®, CRC®, and other CE Credit Reporting
We will report your CFP® and/or CRC® credit (no additional reporting fee) – please add your ID at checkout. You are responsible for reporting all other certifications for CE credit.
Not familiar with on-demand courses?
We help you be sure you're comfortable navigating our on-demand system. Just contact our customer service department by email anytime or by phone 847.686.0440×105 during regular business hours.
What if you decide you need more than one course?
Then become a subscriber!  Just notify us that you want to become a subscriber within 10 days of course purchase to apply the cost of your individual cost to a new subscription.
Your satisfaction guaranteed:
We know that you will be pleased with your purchase of this product. If, however, you are not completely satisfied notify us within 30 days of your purchase to receive a full refund of your fee.