Michael Falk, CFA, CRC®, is a consultant and partner with the Focus Consulting Group (and our resident retirement contrarian).
Passion/Expertise:
Michael is an engaging, creative asset management professional, and offers equally engaging presentations and materials on retirement topics, behavior, asset allocation research and portfolio development expertise.
The asset consulting perspective acknowledges that the wisdom of crowds can denigrate into madness at times. Assets should be managed with the serenity to accept the market's realities; the courage to pursue its opportunities; and the ongoing pursuit of wisdom to understand the difference.
Position/Experience:
Michael's background includes extensive asset allocation research and portfolio development expertise along with a multi-faceted understanding of behavioral finance and retirement issues.
Michael formerly was the Chief Strategist on a Global Macro fund as well as a CIO in charge of manager due diligence and asset allocation for a multi-billion dollar advisory, one of the first firms to provide managed accounts for reluctant 401(K) investors – those that can't, or won't, invest wisely themselves.
How should I invest my retirement savings to/thru retirement?
Retirement Smart Webinar #1 by Michael Falk, CFA, CRC®, Behavioral Finance Expert, Investing Expert, Retirement Contrarian
 
Many people believe that upon retirement you should invest in only "safe" investments. However, there are other types of retirement risks besides protecting your savings from volatility in the stock market, such as living longer than your savings (longevity), inflation, sequence of returns (the effect of when investment losses are experienced early in retirement), etc. It is also important to choose investments appropriate for go-go, slow-go and no-go phases of retirement and for leaving a legacy if that is a goal.
Three things you need to know:
1. How to avoid money risks in retirement.
2. Understand how only two income buckets are needed.
3. How mostly everything you hear about investing for retirement today is overly complicated.
How can you BE RETIREMENT SMART? Learn more here about this nine webinar series for $89 – Risk-free for 30 days!
Education/Certifications/Awards:
Michael has been a contributing member of the PDDARI group within the Financial Management Association (FMA), the Vice Chair of the Plan Sponsor Council of America's Investment Committee, taught as an adjunct professor at DePaul University in their Certified Financial Planner (CFP) Certificate Program. Currently he is an approved speaker for the CFA Institute and teaches on behalf of the CFA Society of Chicago in their Claritas program, and is frequently quoted in the financial press. He graduated from the University of Illinois with a B.S. in Finance.
Publications Authored:
"Let's All Learn How to Fish… to Sustain Economic Growth", A CFA Institute Research Foundation Monograph, May 2016
"The Investment Challenge", 2015
"Good Governance, Better Decisions?" Investments & Wealth Monitor (IMCA), 2014
"The Economic Implications of an Older World", Morningstar magazine with Larry Siegel, Feb/March 2014
"Bit by Bit", CFA Institute Magazine interview on bitcoin, March/April 2014
Defined Contribution Insights, "Asset Allocation for Today's Times?", 2012
"Portfolio Construction Needs an Overhaul", guest column in FUNDfire, 2012
"Investment Beliefs: Separating the Real Stuff from the Fluff", commissioned paper 2012
"What's the Best Way to Promote Large caps?", guest column in FUNDfire, 2011
"Enough About the Assets Already", Defined Contribution Insights, 2011
"Uncommon Investment Sense", commissioned paper, 2011
Advisor Perspectives, "Solving the REAL Debt Crisis", 2011
"Investing, Like Life, Is About Balance", Defined Contribution Insights, 2011
"Risk Management: A Tactical Multi-Manager Approach", commissioned paper, 2010
Financial Planning Association (FPA) of Illinois, Behavioral Finance & Neuroscience, 2007 and 2010
"Portfolio Construction for the Long Run (And Now)", commissioned paper, 2008
Institutional Investor, "Managed Accounts & Default Investments – Serving the Reluctant Investor", 2006
Chicago Sun Times, "How Lifecycle Funds Ease Investing Angst", 2005
"An Evolved Solution – Participant Success Hinges on Plan Design", Profit Sharing, 2002
"Their Quality of Retirement Matters", Sharing Ideas (International Foundation for Retirement Education), 2001
"A New Alternative for 401(k) Plan Structuring", Employee Benefits Journal, with David Wolfe, 1998
---
View summary transcripts of several of Michael Falk's presentations that were included in recent issues of InFRE's FREE Quarterly Newsletter,
Retirement Insight and Trends.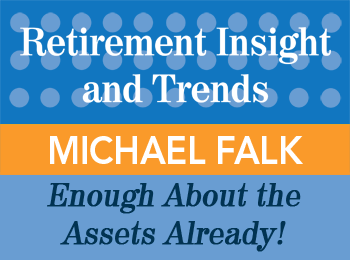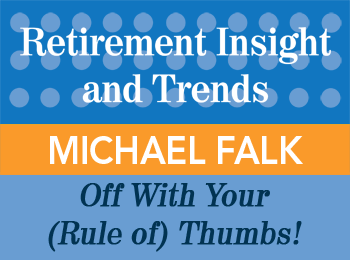 ---
Most Requested Presentations:
Aside from his consulting work, Mr. Falk is part of the CFA Institute's Approved Speaker List.
CFA Institute Approved Speakers Program, Global Society Presentations, 2004 – Present
Is Retirement Past Its Prime? The Economic & Behavioral Realities of Retirement
Behavioral Finance & Neuroscience: Rational Is As Rational Does
Lies, Damned Lies & Mathematical Forecasting: Of Optimization and Allocation
Psychology, Neurology… How Your Biology Impacts Your Investment Decisions
Conference presentations:
Inside Indexing Conference Expanding Your DC… Does Indexing Work in Every Asset Class?, panelist 2012
CFA Chicago, Entitlements, Austerity, Taxes and the Mortgage Crisis, panelist 2011
FMA Annual Conference, Core Research Challenges Facing Practitioners, panelist 2011
MarketWatch / WSJ Exchange Traded Funds Panel, panelist 2011
FMA Annual Conference, Frontiers of Asset Management, panel moderator, 2010
Plan Sponsor Council of America (PSCA) Conferences, various topics, 2001 – 2003 and 2010
CFA Chicago, The Future of Asset Allocation Theories: Are They Alive, Dead, or on Life Support? Panelist, 2010
Morningstar Investment Conference 2009, Can MPT Take the Heat of a Meltdown?, debate
FMA Midwest Finance Association Conference, Hedge Fund & Fundamental Indexation panels, 2009
FPA Illinois, The Pension Protection Act of 2006 with TIAA-CREF, 2007
World Research Group, Best Practices in Retirement Education & Communication Program, 2005 and 2006
Gardner Carton & Douglas (now DrinkerBiddle), Enhancing the Value of Your Retirement Plan While Managing Your Fiduciary Exposure with Managed Accounts, 2004
Int'l Institute of Research National Forum, Asset Allocation & Investment Policy Design for Pension Plans, 2000
National Institute Personal Financial Employee Education (NIPFEE), 1999
---
---
Have Michael Falk speak at your event!
Please contact us today via email or phone 847-686-0440 x102 if you would like to have this or other speakers present at your conference or appear at one of your events, or to receive a free voucher to view a sample of one of our speakers' work.
---
---
---
---
Links: