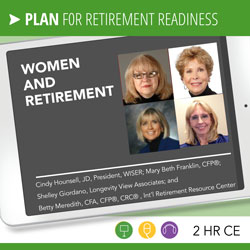 By being retirement smart, we can help our women clients prepare ahead of time for the retirement-specific risks that are most likely to affect them.
In retirement, women are more at risk than men of living longer than expected, surviving a spouse, experiencing a "grey divorce", being a caregiver, dealing with the long-term care expenses of a spouse, and eventually relying solely on Social Security for their retirement income.
"Women and Retirement" provides specifics about what planners should do to help their women clients be more retirement secure.
In this session you will gain ideas for helping your women clients, family and friends be more retirement secure:
Learn about retirement risks faced by women
Learn how to help clients experiencing retirement "shocks" such as divorce, widowhood, or caregiving, protect their retirement security (Cindy Hounsell, JD, President, WISER)
Discover how to help single, married, divorced or widowed clients make an informed Social Security decision that protects their retirement income (Mary Beth Franklin, CFP®)
Learn how home equity can be used beyond just supplemental retirement income (Shelley Giordano, Longevity View Associates)
Experience a before and after case study that applies all the above and provides practical tools for implementing insights with your own clients (Betty Meredith, CFA, CFP®, CRC®, Int'l Retirement Resource Center)
Overall Rating: 4.4 / 5
Retail: $29.00
Add to Cart
This on-demand webinar is a recording of a recent live webinar. Check our WEEKLY REBROADCAST SCHEDULE where there is no need to take the online quiz to receive CE. You may also take this on-demand course any time for 1 hr CFP®, CRC®, and other Continuing Education Credit when you pass the online quiz.
Your presenters are:
Cindy Hounsell, JD, President of WISER, the Women's Institute for a Secure Retirement
Cindy Hounsell, JD, is the President of WISER, the Women's Institute for a Secure Retirement, a nonprofit organization that seeks to improve the opportunities for women to secure retirement income and to educate the public about the inequities that disadvantage women in retirement.
Mary Beth Franklin, CFP®, Contributing Editor, InvestmentNews, is a nationally known and frequently quoted expert on Social Security claiming strategies. She has a long-time interest and expertise in retirement issues, Social Security, and taxes, with a background in the federal budget, international trade, and Capitol Hill as it affects personal finance.
Shelly Giordano founded the Funding Longevity Task Force and serves as Chair. This team of researchers, gerontologists, financial planning practitioners, and lenders is devoted to helping Boomers understand how powerful their housing wealth could in planning for a more secure retirement.
Betty Meredith, CFA, CFP®, CRC®, is a leading voice on retirement planning for the middle mass and mass affluent markets. She is the Managing Member of the Int'l Retirement Resource Center.
Moderator: Betty Meredith, CFA, CFP®, CRC®, Int'l Retirement Resource Center
Invest in Your Retirement Expertise
2 hrs CFP®, CRC®, and other CE Credit Reporting
We will report your CFP® and/or CRC® credit (no additional reporting fee) – please add your ID at checkout. You are responsible for reporting all other certifications for CE credit.
Not familiar with on-demand courses?
We help you be sure you're comfortable navigating our on-demand system. Just contact our customer service department by email anytime or by phone 847.686.0440×105 during regular business hours.
What if you decide you need more than one course?
Then become a subscriber!  Just notify us that you want to become a subscriber within 10 days of course purchase to apply the cost of your individual cost to a new subscription.
Your satisfaction guaranteed:
We know that you will be pleased with your purchase of this product. If, however, you are not completely satisfied notify us within 30 days of your purchase to receive a full refund of your fee.