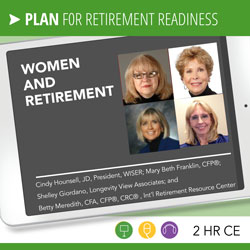 By being retirement smart, we can help our women clients prepare ahead of time for the retirement-specific risks that are most likely to affect them.
In retirement, women are more at risk than men of living longer than expected, surviving a spouse, experiencing a "grey divorce", being a caregiver, dealing with the long-term care expenses of a spouse, and eventually relying solely on Social Security for their retirement income.
"Women and Retirement" provides specifics about what planners should do to help their women clients be more retirement secure.
In "Women and Retirement" by Cindy Hounsell, Mary Beth Franklin, Shelley Giordano and Betty Meredith, you will gain ideas for helping your women clients, family and friends be more retirement secure.
Learn about retirement risks faced by women;

Learn how to help clients experiencing retirement "shocks" such as divorce, widowhood, or caregiving, protect their retirement security (Cindy Hounsell, JD, President, WISER);

Discover how to help single, married, divorced or widowed clients make an informed Social Security decision that protects their retirement income (Mary Beth Franklin, CFP®);

Learn how home equity can be used beyond just supplemental retirement income (Shelley Giordano, Longevity View Associates);

Experience a before and after case study that applies all the above and provides practical tools for implementing insights with your own clients (Betty Meredith, CFA, CFP®, CRC®, Int'l Retirement Resource Center).

 
Your presenters are Cindy Hounsell, JD; Mary Beth Franklin, CFP®; Shelley Giordano; and Betty Meredith, CFA, CFP®, CRC®.
Meet Cindy Hounsell, JD – Women and Retirement Advocate and Expert
Retirement planning experience
An attorney and retirement expert, Ms. Hounsell has been widely quoted in various media and publications including The New York Times, The Wall Street Journal, Forbes/PBS Next Avenue, Barrons, U.S. News and World Report, CNN, CNBC and NPR's 1A, All Things Considered, Morning Edition and Marketplace.
Ms. Hounsell also serves as Director of the National Resource Center on Women and Retirement; the Center WISER operates in partnership with the U.S. Administration on Aging. Through the Center, Ms. Hounsell provides technical assistance to national organizations and trains leaders and grassroots advocates across the country.
Meet Mary Beth Franklin, CFP®, Expert on Social Security Claiming Strategies
Retirement planning experience
Mary Beth writes about the latest research and thought leadership on retirement income planning. Her most recent book, "Maximizing Social Security Retirement Benefits – Everything you need to know to get the most out of complicated new claiming rules", has been updated to reflect changes in claiming strategies due to the Bipartisan Budget Act of 2015.
Presentations usually range from 45 to 90 minutes and include questions and answer sessions with the audience. Some of Mary Beth Franklin's presentations include:
"How to Maximize Social Security Benefits Now" discusses the new claiming rules authorized by the Bipartisan Budget Act of 2015 and reviews strategies for married couples, divorced spouses, surviving spouses and ex-spouses and single individuals.
"The Broken Three Legged Stool" discusses the demise of pensions as a traditional element of retirement income and the need to include all sorts of assets beyond retirement accounts (such as home equity and continued employment) when creating a retirement income plan. It includes ways to maximize Social Security benefits under current rules.
"The Ticking Tax Time Bomb" outlines the challenges of managing retirement income in the most tax-efficient manner and discusses the impact on retirement income on Medicare premiums.
Why Social Security is Crucial to Women – Women represent more than half of all Social Security benefits whether on their own earnings record or as a spouse, a caregiving spouse, an ex-spouse or a widow. Although women now work and pay Social Security taxes at higher rates than any other time in history, they face considerable retirement planning challenges due to their longer average lifespans and careers that are often interrupted for caregiving duties.
Retirement planning thought leadership and expertise
Mary Beth Franklin is passionate about retirement income strategies.
She has a long-time interest and expertise in retirement issues, Social Security, and taxes, with a background in the federal budget, international trade, and Capitol Hill as it affects personal finance.
Mary Beth Franklin is the President of RetirePro and a Contributing Editor to InvestmentNews. She has served as a Senior Editor to Kiplinger's Personal Finance and a Syndicated Columnist for Maturity News Service/Third Age Media, using her background as a Capitol Hill reporter.
Meet Shelley Giordano, Reverse Mortgage Expert
Retirement planning experience
Shelley's background in reverse mortgage lending is diverse and includes origination, sales management, and industry leadership. She read a very early article article written by Barry Sacks, PhD, JD , in 2005, and since then have advocated for the protective power of housing wealth in the retirement distribution phase.

Shelley supports the conservative, proactive use of housing wealth. She also promotes responsible lending principles.
As head of Mutual of Omaha Mortgage's Enterprise Integration and Founder of the  Academy Home Equity Financial Planning University of Illinois, she strives for collaboration among thought leaders in academia, regulatory agencies and financial services firms that are investigating the proper role of housing wealth in retirement.
Retirement planning thought leadership and expertise
Shelley strives for the right of the American retiree to have access to accurate information on how reverse mortgage lending works, and how much it costs. Her years in the industry have proven that product innovation is not necessarily in the best long-term interests of the consumer or the taxpayer. Because the US Government is the ultimate backstop for the HECM, she does not support product innovation at the expense of the taxpayer. Most importantly, Shelley is devoted to helping retirees, especially Baby Boomers, understand that housing wealth may contribute to a financially secure retirement. 
Meet Betty Meredith, CFA®, CFP®, CRC®, Advocate for the Retirement Security of Middle Income Americans
Retirement planning experience
Betty Meredith has 30 years' experience producing application-oriented professional development, content marketing, and consumer education to help advisors, consumers, public sector retirement counselors and plan participants make informed retirement decisions. 
Retirement planning thought leadership and expertise
Betty's goal is to help retirement professionals help their clients make informed retirement decisions. She has participated in dozens of retirement studies on the mid-market, and oversees incorporation of research findings and best practices into InFRE's Certified Retirement Counselor® study materials. She also produces a live monthly webinar professional development series for retirement professionals, and has created dozens of consumer and retail client retirement education programs. Betty has 30 years experience in financial services, twenty of those years in employee, client, and professional retirement education with major financial services companies and employers.
Invest in Your Retirement Expertise.
2 hrs CFP®, CRC®, and other CE Credit Reporting
We are a CE Sponsor with the CFP Board of Standards and the professional development partner of the International Foundation for Retirement Education (InFRE).
We will report your CFP® and/or CRC® credit (no additional reporting fee). Please add your ID at checkout. You are responsible for reporting all other certification CE credit.
Over 50 courses are accepted for continuing education (CE) credit for those who have earned the Certified Financial Planner® (CFP®) certification, the International Foundation for Retirement Education's (InFRE) Certified Retirement Counselor® (CRC®) certification, the College for Financial Planning's Chartered Retirement Plan Consultant (CRPC) certification, the American College's designations (ChFC, CLU, RICP), Retirement Management Analyst designation (RMA), ASPPA and other certification or designations.


Do you need more than three hours of CE?
Then become a Subscriber!  Just notify us that you want to become a subscriber within 10 days of course purchase to apply the cost of your individual cost to a new subscription.
Not familiar with on-demand courses?
We help you be sure you're comfortable navigating our on-demand system. Just contact customer service by email anytime or by phone at 847.686.0440 x105 during eastern time regular business hours.
Your satisfaction is guaranteed. We know you will be pleased with your purchase of any of our courses or subscription products. If, however, you are not completely satisfied, just notify us within 30 days of your purchase to receive a full refund of your fee.